Pioneer Life on Glass: The Balcom-Green Collection – $25.00 ppd.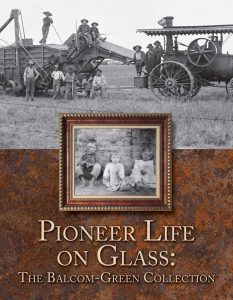 The Balcom-Green photo collection makes a significant contribution to our understanding of the history and settlement of the central Great Plains by providing an intimate look into Nebraska's past.  The images capture private moments that illicit strong emotional responses, the sadness of an infant's funeral to the joy of school children having ice cream.  The subtle nuances of pioneer life (rain barrels at the ends of downspouts, for instance) are also depicted in the photographs in addition to the more significant symbols of progress—horses, cattle and hogs, frame houses and hay barns, shocks of wheat, steam engines, and new motorcars.  Beyond landscapes and material advances, the individuals and families portrayed in the photographs convey a sense of achievement and the determination of the men and women who settled the Great Plains is evident.
The book contains five chapters and is based on a collection of photographs from the Cairo area. Chapters include Introduction, Agriculture, Farm Life, The Great Plains, Cairo and Vicinity.
Topics include Agriculture, Glass Negatives and Early Photography, Homestead Act, Pioneers and Settlement.
Authors: Combs, H. Jason and Harders, Kenneth.
Date: 2017
Length: 94 Pages, includes References, Endnotes, and Index
ISBN 978-0-692-79252-0
$25.00 – Price includes free shipping.
Mail orders to:
Kenneth Harders
820 N. Burwick Rd.
Wood River, Nebraska 68883
phone: 308-382-8778
"PIONEER LIFE ON GLASS: THE BALCOM-GREEN COLLECTION by H. Jason Combs and Kenneth Harders is meticulously researched and documented, beautifully produced, and something to be not just read but studied carefully, page by page, image by remarkable image. It isn't just about Cairo, Nebraska. It's about rural Plains life and, while it is a THIN book (94 total pages), I'm not sure I could have dealt with much more because each photo demands enormous amounts of time to take in and digest. No kidding, folks… At $25 you won't be getting many better bargains." – Roger Welsch